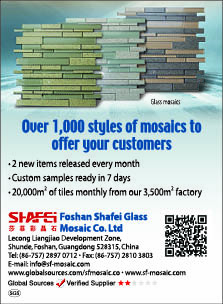 Share:




E-mail

Print

Bookmark
Foshan Shafei Glass Mosaic Co. Ltd

Follow me

2 Star China (mainland)

Credit Check - Supplier Credit Profile

provides impartial credit and vital business metrics for select suppliers on Global Sources Online. Using the Credit Check reports, buyers can easily compare key indicators and more efficiently manage risk. Suppliers with a Credit Check logo have agreed to allow this information to be reported to help buyers streamline the selection and due-diligence processes.

The supplier information below has been obtained from relevant government agencies in the supplier's country and is subjected to change without prior notice. Credit Check and verification procedures were conducted by Sinotrust, a third-party credit agency.
Read Disclaimer


Registered Address:
Liangjiao Ind. Development Zone Lecong Tn.
Shunde District Foshan City
Guangdong Province China

Incorporation Date:
August 15, 2003
Legal Form:
Limited liability company
Company Status:
Live
Registration Agency:
Foshan Municipal Administration for Industry and Commerce
Registration Number:
440681000046629
Authorized Capital:
RMB 500,000
Paid-Up Capital:
RMB 500,000
Legal Representatives:
HUO Yongzhang
Import & Export Licences Obtained:
No
Business Scope:
Manufacturing of crystal mosaic and glass craftwork products
Shareholders:
• HUO Yongzhang
• LUO Shaoyan




Want a more detailed Credit Report on this supplier?



Authenticated and verified by:
Sinotrust


On August 01, 2011

Contact Details




Foshan Shafei Glass Mosaic Co. Ltd
P.O. Box: sfmosaic@hotmail.com
Lecongliangjiao Development Zone
Shunde District
Foshan
Guangdong
China 528315
Tel: (86 757) 28970712
Fax: (86 757) 28103803


Homepage Address
http://www.globalsources.com/sfmosaic.co
Other Homepage Address
http://sf-mosaic.com/


Chat with supplier using:

Key Contact:
Ms Luo, Lorna
Manager


Supplier and product information updated December 12, 2013.
Verified Business Registration Details
Registered Company: 佛山市莎菲玻晶石有限公司
Business Registration Number: 440681000046629
Company Registration Address: 顺德区乐从镇良教工业开发区


* In some jurisdictions, company names and addresses are registered in Chinese only.